Zumen's 2022 Year in Review
Business |
January 06, 2023
| By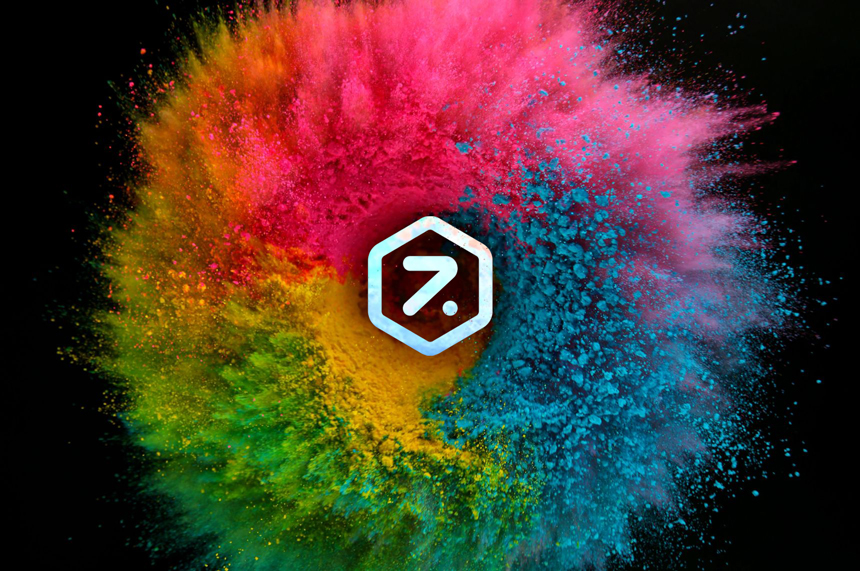 A blast from our past. 
In 2022, in an effort to empower procurement with comprehensive direct material Source-to-Pay software, a lot has transpired at Zumen. And along the way, we had loads of fun. This is Zumen's rewind of 2022. 
Globe-trotting adventure!
In 2022 we sponsored and participated in a total of seven international events globally. Here's the list:
Modex 2022

– An international event where we had a chance to meet the global supply chain, material handling professionals, and thought leaders in the manufacturing and supply chain space and discussed ideas, shared latest knowledge, and forged strong connections with them.

International Manufacturing Technology Show (IMTS)

– The largest and longest-running industry trade show in the Western Hemisphere. And we were one of the sponsors. At this event, we had a chance to meet the creators, builders, sellers, and drivers of manufacturing technology.   

ASCM Annual Connect 2022

–

This event was the place to be for Global Supply Chain professionals, and we were glad to be a part of it as sponsors. The event's focus on the global supply chain, disruptions,  technologies, and strategies made the event a true success. 

62nd Annual ACMA Session

– We were one of the sponsors for this event. And we had a great time

networking with Industry leaders and showcasing Zumen's Innovative Sourcing Software. 

Asia Pacific Procurement Congress (APPC 2022) – A yearly convention organized by Procurement Leaders to bring together the latest trends and technology in procurement. Through this event, we presented our revolutionary product to global leaders in procurement, discussed how procurement can impact business growth, and much more. 
CIO Klub, Coimbatore Chapter

– We hosted, interacted, and discussed ideas on direct material procurement with prominent CIOs in and around the Coimbatore district, Tamilnadu, India.

India EV 2022 Confex & Awards – Attended by the who's who of the EV industry, India EV 2022 Confex and Awards was India's biggest EV event in 2022 and we were the title sponsor. It was an amazing opportunity to be in the midst of the industry's most influential minds who shared their insights on EV manufacturing, and the need for a sustainable future, and also discussed the challenges that lay in the journey towards electrification. Read here to know more. 
We made a mark globally! 
In 2022, we were featured in the ProcureTech 100 list. ProcureTech 100 is a comprehensive list of digital solution providers shortlisted from an exhaustive 4000 solutions across the globe. The ProcureTech 100 list companies are shortlisted with the help of data and analysis and the collective experience of over 70 procurement professionals, technology leaders, and B2B investors.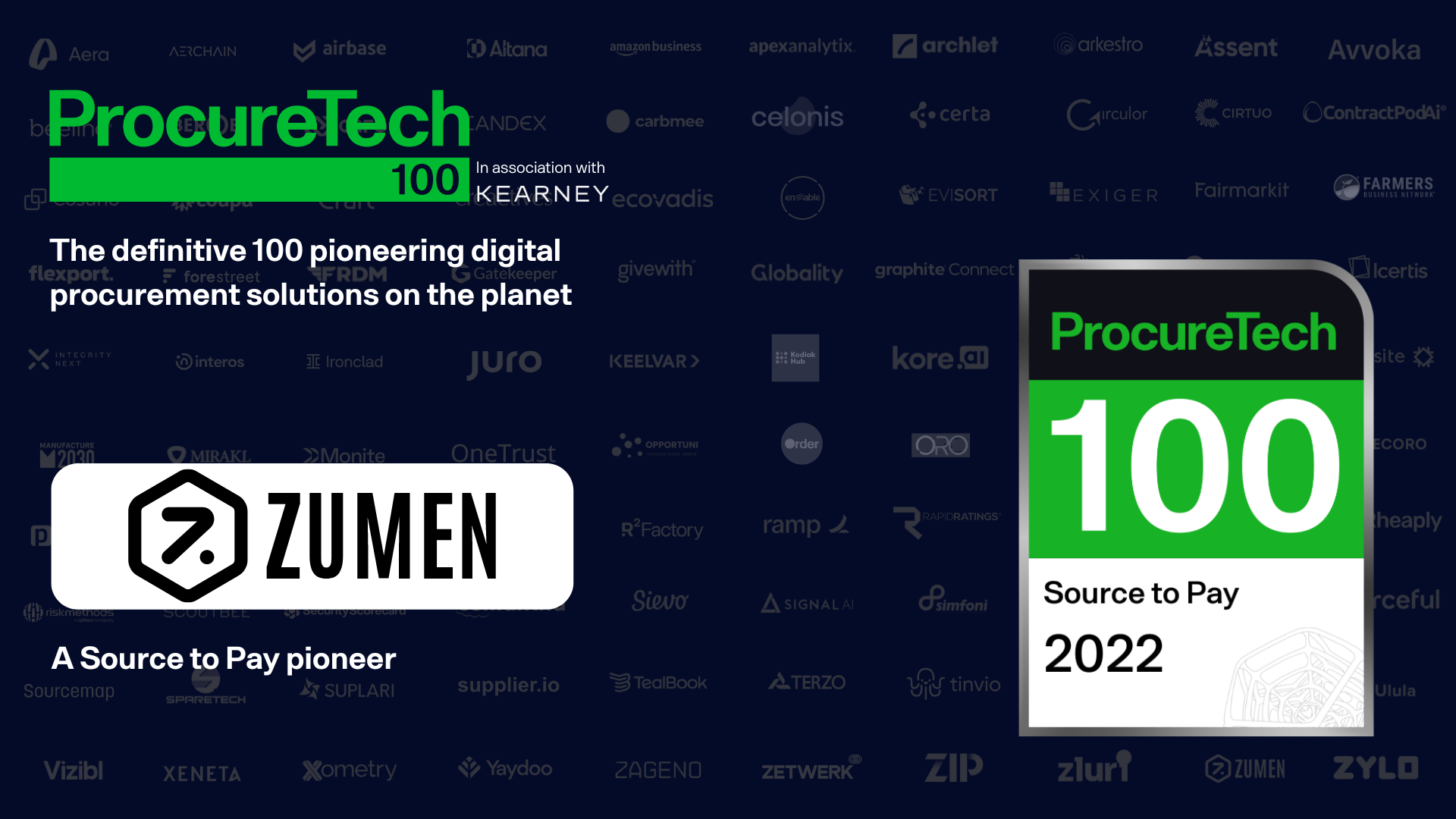 We were thrilled after this announcement and to quote our CEO, Viswanathan Kuppuswamy, " Zumen is elated and honored to be recognized by ProcureTech and Kearney…"
We also beefed up our security by becoming Service Organization Control 2 (SOC2) compliant. With data breaches, security risks and awareness of the same at an all-time high, SOC2 compliant badge ensures that customer data, storage, management, and processing meets industry standards. 
We wished you a good morning! 
2022 was the year we published our first newspaper ad in Economic Times.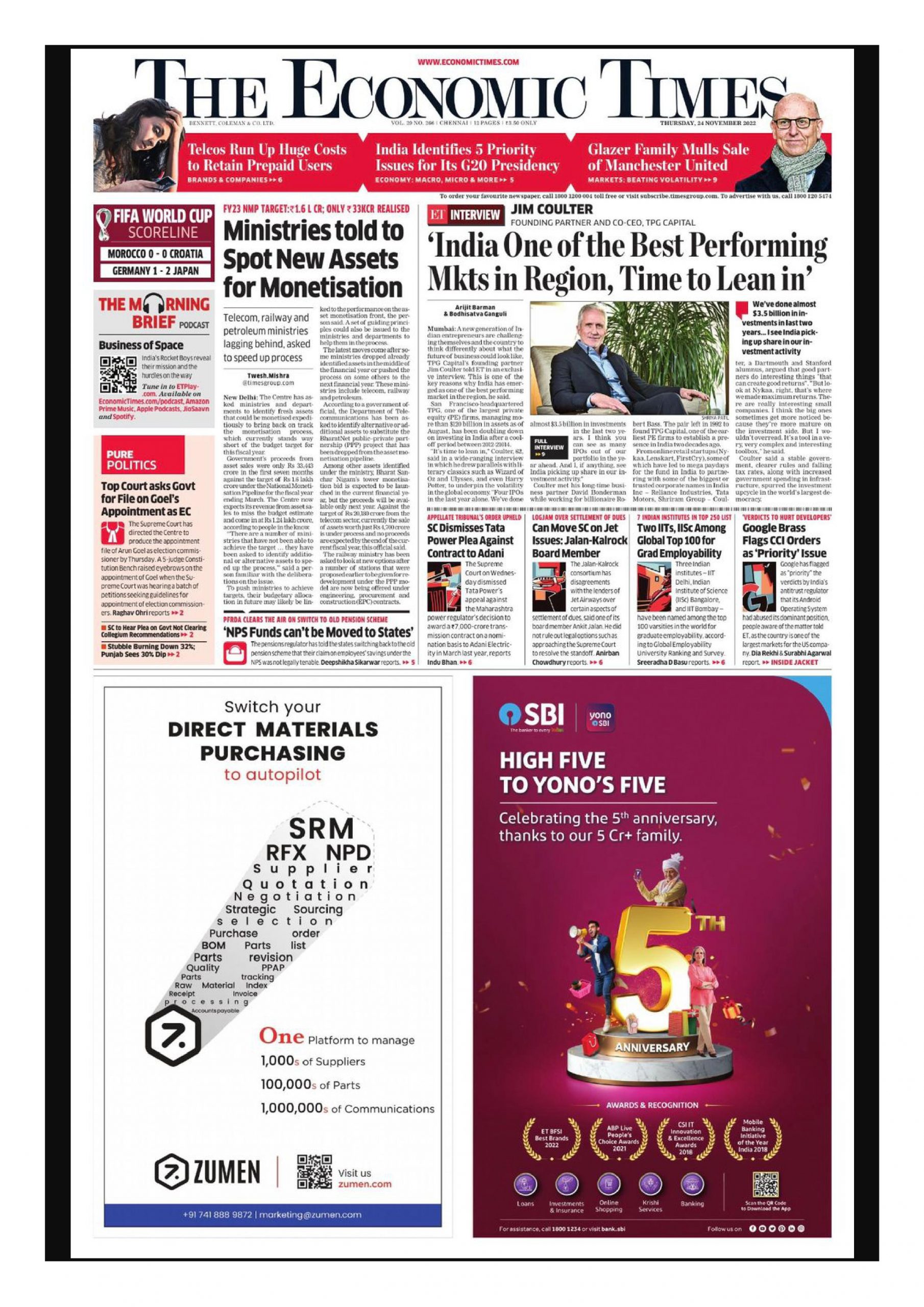 A fresh new (out)look!
With our Hompage getting a new makeover – Homepage 2.0, we call it internally! – we welcomed 1190% more website visitors than in 2021. 
Now we can walk around more! 
Just as bigger homes get us excited, we expanded to a bigger office space this 2022. 
Our logo collection hit a new high!
In 2022, we onboarded five new customers and 200 active suppliers.   
Twice as big, double the fun! 
Our team, no, our family became 2x times bigger in 2022. 
Also, we had truckloads of fun throughout the year through various fun activities.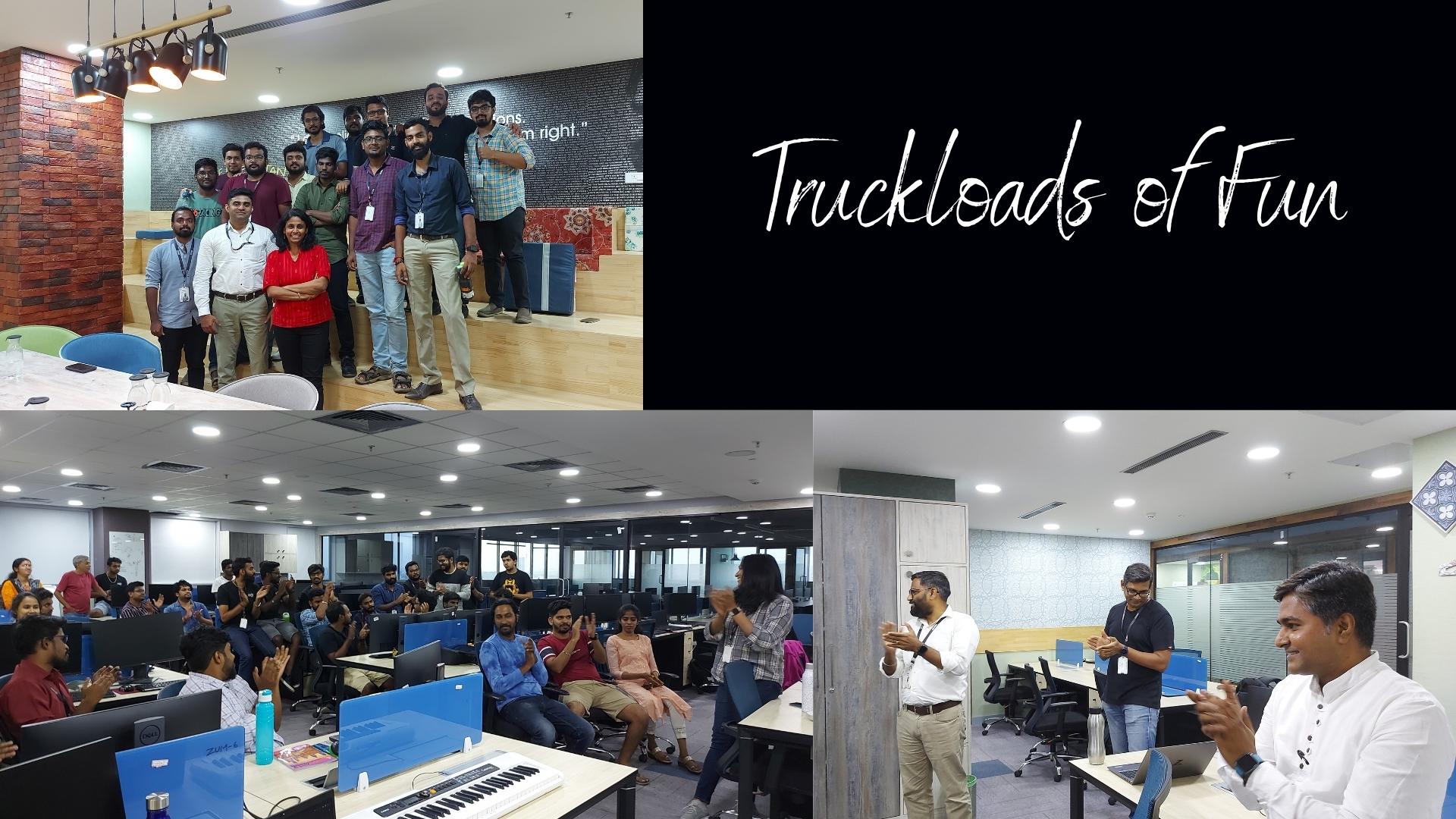 Hack Attack 2022

– Our yearly coding competition where members from all teams join together to create a viable/deployable feature, or even come up with novel product ideas related to procurement and supply chain. And boy, we wish you were there to see their pitches.

Thanksgiving 2022

– We celebrated thanksgiving 2022 with a potluck where everyone bought tasty treats and delicacies. We had a full-tummy and fulfilling Thanksgiving. 

Walkathon

– All work and no play make Jack a dull boy. In today's world play here loosely translates to some form of exercise. At Zumen, we take our employees' health seriously and in this regard, we conducted a Walkathon competition where the team with the highest number of steps wins. And this did not stop there, our employees are also participating in the Chennai Marathon this 2023. 

Cross-cultural Training

– An interactive, informative, and introspective session that was empowering and eye-opening.

It taught us to be sensible, aware, and respectful of the multicultural ecosystem we thrive and depend. We will carry these learnings throughout and outside the workplace. 

Fun Fridays

– Fridays are for fun, right? At Zumen, we adopted it literally by conducting fun games and providing delectable snacks.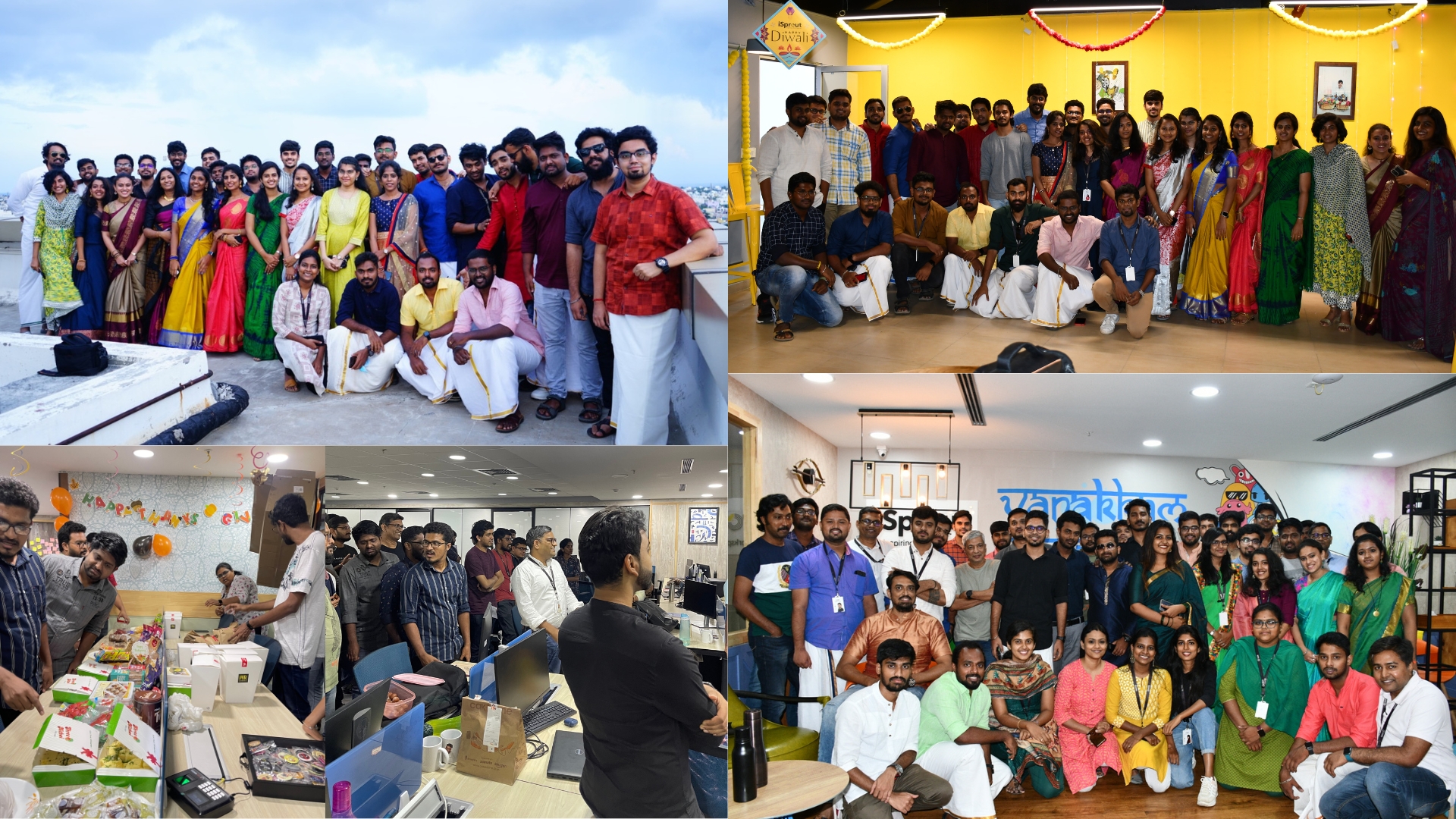 Breaking the barriers!
Our team worked tirelessly and upgraded our product for seamless integrations with multiple ERPs such as:
MS Dynamics

ECC6

Oracle

Windchill

Zoho Books
Beefing up our core!
We've added new features to our product arsenal, such as:
Bill of Material (BoM) Comparison – Now users can effectively compare BoMs of two similar products and analyze the differences based on the feature, cost, and factors impacting the supply chain process.
Product Costing  – With this feature, product manufacturing organizations get a comprehensive yet simple way to compare part lists and BOMs. 
Custom Fields – Users can now add or customize the fields in the transactional pages such as the RFx process and PO.
Material Control  – With this feature users can create, manage, and track multiple shipments for a Purchase Order (PO). 
Stage-Gate Control for New Product Development process – Cost is a key factor that needs to be reviewed at every stage gate. So to ensure control of time, cost, and quality, our software allows the distinction of various stages in the new product development process separated by management decision gates, also referred to as stage gates.
Let iRiz be your third eye!
Say Hello to iRiz!
We are proud to say that we built the first and only AI model capable of handling Direct Material Quotations for product Manufacturing companies. iRiz is capable of reading and understanding complex quotations for direct materials procurement. 
In a swish! 
We have kept our 4-week Go-live promise, in fact, we have jumped a step further. With Zumen, product manufacturing companies can Go-Live in 2 weeks instead of 4! ( Pat! Pat! Pat! on our shoulders :D)
This 2023 we are looking forward to more exciting challenges and even more funnier moments. Onwards and upwards!
Wishing you all a Fantastic 2023!