10 Reasons Why a Procurement Platform's TCO is Way Lesser than a Custom Solution
Business |
July 13, 2023
| By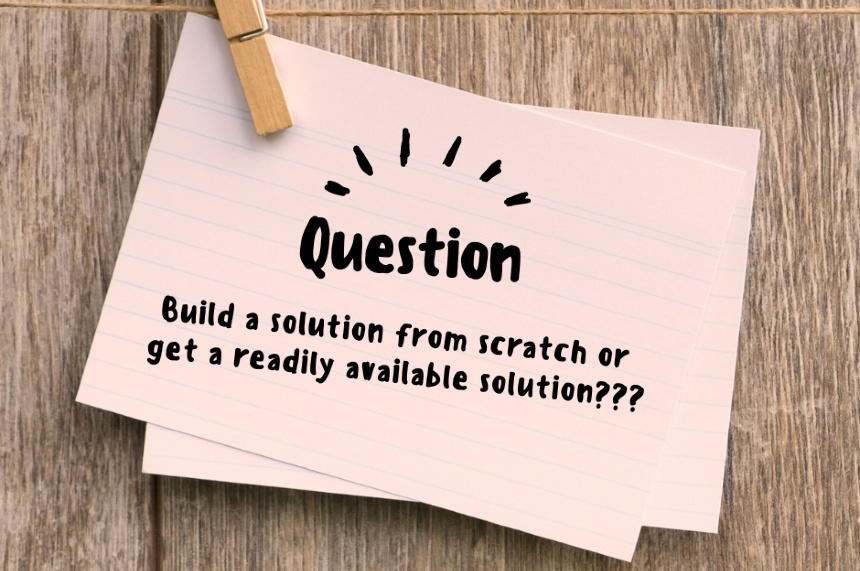 A majority of the manufacturing companies still use ERP for Sourcing & Procurement. Managing Procurement in ERP is primarily about order management. All of the pre-purchase order or sourcing activities, in other words, all of the strategic decisions and actions are not accounted for in ERP.
ERP is one of the most important systems an organization has as it is the central source of information; diverse business units within a company operate off the same data set. It drives operational efficiency and manages processes and finances globally. That said, ERP is not suitable for a process like procurement, where there is a lot of analyzing of data for day-to-day actions. Moreover, a lot of the associated processes have not even been brought within the scope of an ERP. Procurement teams over the years have learnt to manage their processes working with the limited capability of ERPs. However, to stay relevant in the market, it's important for companies to take advantage of evolving technology.
The question
So the question that needs to be answered is: What is the total cost of ownership (TCO) to customize an ERP incorporating the complete source to pay cycle? Or, with the emergence of source to pay (S2P) solutions, the more accurate question that needs to be asked is: Which is more beneficial, customizing the ERP to incorporate all the components of the source to pay cycle or acquiring a readily-available source to pay solution and integrating it with your ERP?
The way ahead
Successful companies across the globe are those who are increasingly counting on source-to-pay strategies and supplier management initiatives to deliver on savings. Given this context, here are 10 reasons why a procurement platform is a good solution technically and cost-wise.
Bring down IT effort to almost nil

: First and foremost, the IT footprint and the pain of developmen

t

and maintenance is reduced to practically zero.

Missing Industry Best Practices: Developing a solution based on the knowledge and experience of a few specialists within your organization will limit the capabilities of the system. A custom solution development approach, even when working with a large service provider, will only use the knowledge available within the team. Whereas using a procure to pay solution for a specific business process will ensure you get the advantage of learning the best practices from around the world.

Lack of an integrated approach

: Limited domain knowledge of the solution providers when building custom solutions leads to several bottlenecks in the solution architecture that can come back to hurt us later. Limitations on scaling, so on and so forth. Irrespective of the technical expertise of the solution provider, if their understanding of the business context and challenges is sub par, they are not well equipped to build a comprehensive solution.

Eliminate Training Time

: When dealing with a solution provider, almost always, you would be required to assign specialists from your business to 'educate' their business analysts. This is a hidden cost and completely ignored. Are you as an organization improving your competence and capabilities or are you spending energy and resources in training someone?

When specialists from your organization help build such solutions, your business suffers. Losing productivity during development time in terms of testing the solution is well known. How are these costs factored in your solution cost?

Working with specialist platform solutions eliminates the cost of resources who engage with the solution providers and educate them on the domain requirements.

High Support & Maintenance Cost

: With the development of a tailor made solution, the companies lock themselves with limited testing within the context of the project that eventually requires constant support in terms of bug discovery and correction, exceptions and system downtimes. In contrast, hundreds of manual and automated regressions would have been completed in a procurement solution. The platform solutions do not require any special attention for system upkeep and solution upgrades, which again add to significant lifetime cost.

Future built on old systems: Most ERPs were built in the past decades and using old technologies; the industry is awash with information and case studies of how older solutions have not been able to scale or solve some use cases. A lot of times, when the solution customization team reaches this point, they provide a compromise solution that may not be fully in line with the productivity expected at the beginning of the project. For example, availability of APIs, ease of integrations, inability to migrate to cloud, or simply, the software not being able to work fast enough.
High Future Development Cost:

When customizing, you are force-fitting a solution that is not suitable for your needs. Thus, you are setting yourself up for more problems in future as every change or new requirement needs to be developed at a significant cost, i.e. the lifetime cost of the solution is bound to be multiple times higher than using a best-of-breed procurement software.

Poor Requirements Definition

: Another critical but often overlooked concern, which is also a common reason for the failure of these solutions, is that a process expert in a business function may be excellent at their job but may be poor in explaining to others, let alone conceptualizing a software solution for company-wide use. (How often do we find great players in football/soccer or any other sport that perform as poor coaches or vice-versa where poor players end up being great coaches?)

Poor User Training & Adoption

: Custom built software usually come with ad hoc training manuals and poorly coordinated training sessions, because the primary focus is on the development activity to meet business requirements. To add to that:

training materials and sessions are driven by the project owners and the business analysts

user experience and software design are almost always ignored, also leading to poor adoption

Low ROI

: Solution developed for a specific company's use will be paid back through the company's internal productivity improvements only and this may not be a wise investment choice when compared to a best-of-breed solution that can be configured within a few weeks and priced in terms of the optimal ROI; cost is recovered from multiple companies instead of just one.
We don't find it easy to make a change. Even when we acknowledge the benefits of the better way. In our personal lives too, the impact of, for example, not adopting the right habits is significant. However, it is usually gradual that it's hardly noticeable in the present. But in business, the ability to take advantage of such opportunities really differentiates the successful companies from the rest.
Look at how a source to pay solution works and see if it has the value for you to make that 'not-so-comfortable' change. We make it easier than most! Talk to us.