Material Sourcing: Digitally transforming the Request for Quotation process
Business |
January 29, 2023
| By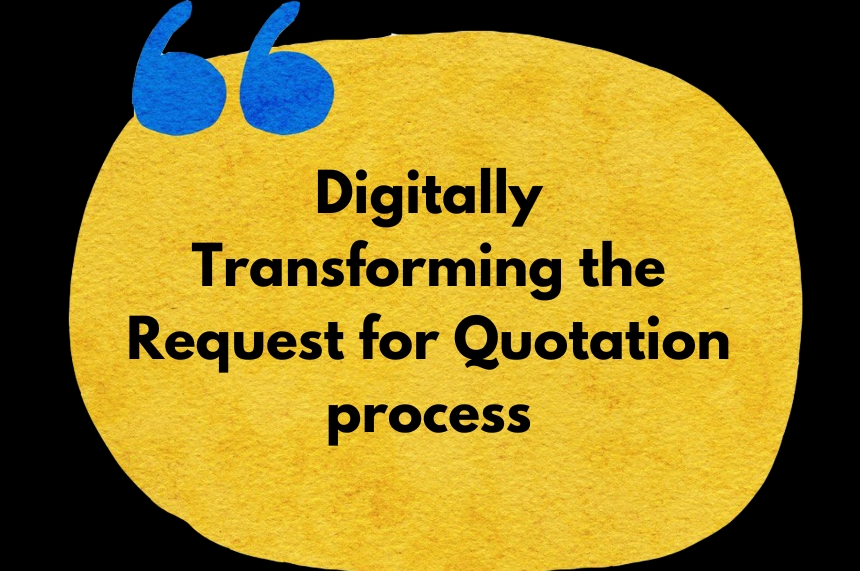 The first, and most basic, rule in cooking is to ensure everything is set up before you begin – mise en place. Assume you missed an ingredient. And you search for that ingredient only when it's time to add it. And now everything seems to be in slow motion: the steam from the vessel is delirious, slowly dancing in front of you; your sweat beads slowly roll down your face; and by the time you add the ingredient, the time is up. Imagine how the dish would taste! 
Like cooking, in raw material sourcing and procurement, accurate and actionable data is vital. The data has to be always ready in real-time.
Accurate, available, & actionable data

It's fact that the purchase requisition and the request for quotation (RFQ) processes are critical steps in the Direct Material Sourcing cycle. And working with accurate and actionable data is non-negotiable. The reason is that the suppliers will send their quotations based on the shared information only. The suppliers are selected either via reverse auctioning (when low cost is a key determinant) or using other criteria. Even a small mistake here can derail the entire program. So all the relevant details must be available within a click's reach. 
Of the available data, here is what must be available for an immediate reckoning:
Purchase history:

Having a purchase history at their disposal is a boon for buyers.  This helps buyers review the costing details, Incoterms, and data to understand why a particular supplier was selected, and why the others weren't; etc. In addition, it would be really helpful if the parts are labeled i.e. a part could be labeled based on the POs awarded to the suppliers. Just by looking at the label, buyers can identify whether a purchase order is in place for the part and also identify the purchase order type. This saves them truckloads of time—they can decide to go with the same supplier or re-source suppliers based on the program's requirements. 

Part attributes:

Material sourcing cannot be done only with the help of BOM data. The buyers need data such as the delivery timelines; whether the items are for proto, pilot, or production orders; cost targets; and their respective volumes; etc. And all these data should be available within a click's reach in the sourcing software. 

Drawings:

Buyers may receive purchase requests without the design drawings attached to them. So if the buyers want to look at a particular drawing, they have to reach out to the designers. Moreover, when a drawing file size is large, it might not be possible to share it via email. So designers have to resort to sharing in common sharing platforms. And this is possible only after approval and file-sharing access from the IT teams. But sharing proprietary information via emails and other common platforms is not secure! And when buyers have to clarify any doubts regarding the drawings, the communication channel is via calls, emails, or in-person meetings. There is no way to record the communication for future reference. 
To have the above features/functionalities in Source-to-Pay software should be capable of integrating with legacy solutions – ERP and PLM. Since it is the ERP system where a majority of the company's procurement transactions happen, buyers can access past purchase data. And with past purchase information, it is possible to label the parts. And a PLM is where the design data is stored, thus enabling sharing of drawing files during the purchase request itself. Also, in-context communication allows for a seamless transfer of information between the buyer and other stakeholders. 
RFQ status tracking
In a product manufacturing company, at every point, there are several purchase requests and RFQs. And it is necessary to track progress to ensure timelines are met. But, in almost every company tracking is done manually in spreadsheets. And also, in the worst-case scenario, buyers maintain their progress using a different template. So when it is time for status review, buyers have to collate their progress and prepare a single sheet. This takes half a day or sometimes even more. 
With the help of material sourcing software that has in-built dashboards and status summaries, it is possible to review the pending RFQ status in a click. Thus, red flags can be identified and mitigated beforehand. 
Custom templates for supplier quotations
In manufacturing, every quote is different. But today, a majority of the suppliers quote using standard templates. And this is a problem. For example, when suppliers enter the details, they might enter a value in an irrelevant field. Moreover, creating quotations using spreadsheets forces suppliers to add and delete fields manually. Thus more than necessary time and effort are spent. 
But what if there are custom templates? With custom templates, suppliers will be able to keep relevant fields only. Apart from saving time in creating quotes, custom quote templates help improve accuracy by eliminating human errors. So next time a quote is prepared for sand casting, the template is already there, and only the value has to be entered. 
Digitally transform your RFQ process with Zumen
All the features and functionalities mentioned above are needed to digitalize the RFQ process. So everything is ready when buyers have to send an RFQ or when suppliers have to quote against one. Digitally transforming the RFQ process is a significant undertaking. But, the change has to be seamless with minimal effort. Transform your RFQ with Zumen. To know more, schedule a free demo or reach out to us at [email protected].