EV Chargers: Building a Sustainable Framework
Business |
November 23, 2022
| By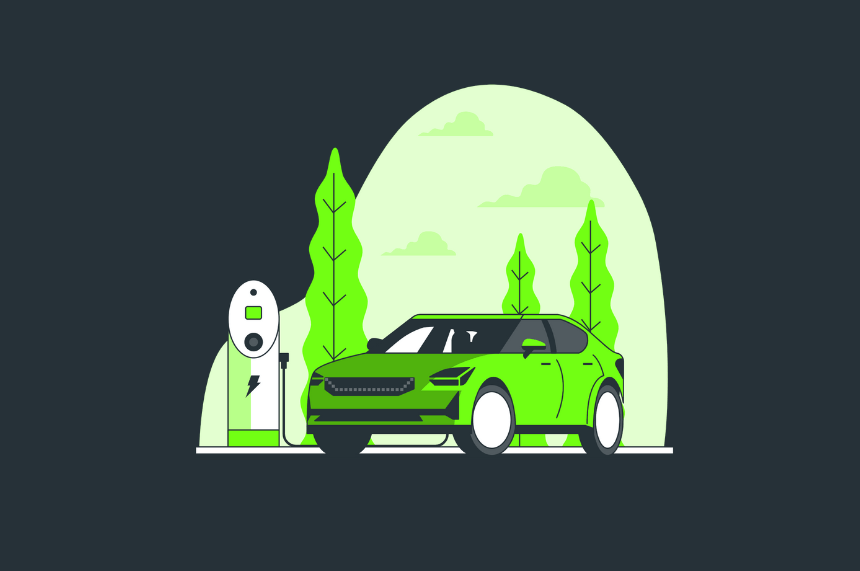 The year is 2030. Internal Combustion Engine (ICE) vehicles have almost been phased out. More than half the vehicles on the road are Electric Vehicles (EVs) and shared e-mobility services are now common. In addition, gasoline and diesel usage are reduced, EV chargers are available in the right places with optimal charging options, and the majority of electricity comes from renewable resources rather than fossil fuels. The air is cleaner, fresher, and richer than before.
Well…one can only hope that the vision for 2030 unfolds as per plan! Getting back to reality, we are still in the middle of the climate crisis. Something which we have recently begun to pay serious attention to. And the focus will be on EV adoption. Which is an alternative to gasoline and diesel vehicles, leading us toward a sustainable future.
Growing adoption rate
Automotive electric vehicles have been on the market for much longer than internal combustion engines. The first electric vehicle was put into motion in the early 1830s. In spite of this, ICEs have dominated the automotive industry because of several factors. The abundant availability of oil, long-range, low total cost of ownership, and maintenance compared to EVs, to name a few. In the years that followed, several innovations gradually pushed the electric car industry to where we are now. The hyper-electric car age. As a result of the push for greater environmental responsibility, EV sales worldwide is on the rise, thanks to the efforts of governments, technology companies, manufacturers, etc.
At a global level, sales of fully electric vehicles crossed the tipping point of 5%, according to a Bloomberg analysis, sometime last year. And a total of 19 countries have surpassed 5% YOY growth, which includes the U.S. as well. But why the number 5%? Well, most technological advancements, especially the successful ones – electricity, telephones, mobile phones, televisions, and even the internet – follow an S-shaped curve for adoption. And in the case of EVs, 5% is when mainstream demand overtakes early adopters.
In terms of numbers, global EV sales – including Battery Electric Vehicles (BEVs) and Plug-in Hybrid Electric Vehicles (PHEVs) combined – were at 4.3 million units in H1 2022, up 61% from H1 2021, and is expected to increase by 57% by the end of 2022. In the USA and Canada alone, new EV sales have increased by 49% in H1 2022.
Though the numbers paint a rosy picture, the reality on the ground is a bittersweet one. Sweet because an increase in EV sales means we are moving towards zero-direct emission-vehicles on the road. Bitter because there are multiple challenges on the path to sustainable mobility. And one of them will be to ensure the availability of accessible, reliable, and sustainable charging infrastructure.
The power conundrum
Insufficient EV Chargers 
Portable electronic devices are common must-haves today. Earlier, the charging adapters came with the device itself. But today, there is a need to purchase your chargers separately. Because many brands have decided to not include chargers along with the devices, citing environmental concerns. In spite of this, there is no shortage of portable chargers and charging ports. Arguing whether this approach is sustainable is a separate discussion altogether. The point is, you need not worry if your portable electronic device is out of juice. You can immediately plug it into a power socket nearby, or even charge it using a portable charger. This is not the case today with electric vehicles (EVs).
According to an EY report, the lack of charging stations replaced high upfront costs as the topmost inhibitor in the adoption of EVs. To put things in perspective, in the US, the total number of gas stations is approximately 145,000 and growing, but the total number of EV charging stations (including both public and private) are in only 52000 locations. 
Need for sustainable power
Besides the dearth of EV chargers, people are also concerned with the power source. Even today, in the U.S., fossil fuels remain the largest source of electricity, approximately 65%, according to the U.S. Energy Information Administration (EIA). Since the goal is to electrify vehicles completely, the need for more electricity is obvious. According to McKinsey, annual electricity demand is estimated to increase from the current demand of 11 billion kilowatt-hours (kWh) to a staggering 230 billion kilowatt-hours (kWh). And this estimate accounts for about 5% of the current total electricity demand in the US. So the shift toward more sustainable power generation is the need of the hour. 
Supporting sustainable growth 
The same Mckinsey report outlines the need for approximately 30 million EV chargers in 2030 to accommodate the burgeoning demand for EVs. Of these, 1.2 million will be public EV chargers and the rest will be installed at residences. And, McKinsey estimates the cost will be about $35 billion in 2030. 
As a start, the Biden administration has passed the Bipartisan Infrastructure Law (BIL). The law allocates a total of $15 billion for improving EV infrastructure and electrifying passenger ferries, school, and transit buses. Many other laws have also been passed to ensure increased adoption of EVs and expand the charging infrastructure in the U.S. The Biden administration has set the target that 50% of new car sales will be Zero Emission Vehicles (ZEVs) by 2030. Another law, orders the federal government to purchase only light-duty EVs by 2027, and only EVs for all vehicle classes by 2035. Moreover, to date, 13 states are formal members of the Zero-Emission Vehicle program, which requires them to increase EV production and in-state EV sales. 
'Charging' the way forward
The road ahead for governments and manufacturers of EV infrastructure is not easy. To obtain the allocated funds, manufacturers have to work closely with states and present a feasible plan to the federal government. This requires them to consider multiple factors, such as follows.
The first one is to ensure equity. Which is charging infrastructure development in all places and not just in urban areas, as it is today. The image below depicts the current concentration of EV chargers per 100,000 households in the US, comparing high-income and low to moderate-income areas.

Also, while installing the EV chargers, the stakeholders also need to decide on the appropriate technology. They have to choose between Trickle (the slowest of the lot), AC (private and public), and DC (the fastest way to charge EVs) – based on the location. For example, drivers who do not have access to home charging will either choose public slow or fast charging depending on their trips. This means, not all places require fast charging technology. So to ensure optimal costs, states and companies have to work together and come up with data that indicate different types of EV chargers for different types of places. 

Advancements in charging technology mean an increase in cost. This means it becomes less and less affordable for passengers to use public charging stations. Drivers who depend on public charging stations will therefore have no control over the cost incurred to charge their EV. To ensure equitable costs, states must work with power grids and charging infrastructure companies. And one way to control costs is to keep a check on them right from the sourcing stage.   

The next challenge is to enhance the charging experience. That is, ensuring optimal speed, low cost, and reliable EV chargers at a safe location. Also, with the need for more EV chargers, the clarion call is to improve grid capacity sustainably in areas where there will be a heavy influx of EVs. For example, when installing EV chargers near coastal areas, companies can also consider using the rising coastal tide predictions by the U.S. military, especially the Navy. Also, to ensure all-weather performance, manufacturers can equip EV chargers accordingly, for example, with waterproof connections.
Considering all of these and more is a huge task for manufacturing companies. Though states will be involved here, the responsibility for developing, building, and implementing the charging infrastructure lies with the companies. And they need their departments to fire on all cylinders. Sourcing and procurement included. 
rEVolutionizing procurement
Developing new products involves multiple factors. Companies need to work with new suppliers (source, review, and onboard them) or develop their existing suppliers to ensure they meet the increasing demands. They also have to monitor and evaluate supplier performance continuously. And, with tight targets set by governments, companies have to follow strict project/program timelines and ensure the parts/materials reach on time at the right cost and quality.
For companies to do all this, managing procurement and sourcing processes manually is impossible. They need software built with an understanding of the complexities of the discrete manufacturing industry. 
Built to address exactly these requirements, Zumen is a platform that caters to the complete gamut of the product and direct procurement lifecycle. From sourcing to payment. To learn more, reach out to us at [email protected], visit us at www.zumen.com, or schedule a free demo.