Wimbledon - A Procurement Excellence
Direct Material Procurement |
July 08, 2022
| By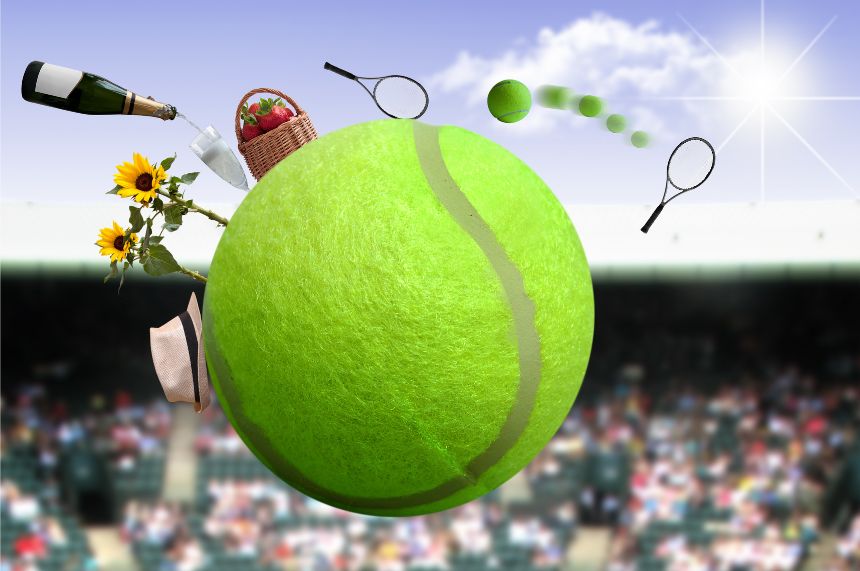 Champagnes, strawberries, and 50K tennis balls behind a spectacular event
Wimbledon – an event that personifies everything British is back to its original form after a 3-year sabbatical. Every product and aspect of Wimbledon is meticulously prepared months in advance of the big event.
Take, for instance, the tennis balls – 54,250 were used during the Championship period. Slazenger has been the official provider of the tennis ball at Wimbledon since 1902, with yellow balls being introduced in 1986.
The act of getting the official ball to Wimbledon actually involves a surprisingly complex procurement process. According to an analysis undertaken at Warwick Business School, materials for the ball are procured from the Philippines the USA, New Zealand, the UK, China, South Korea, Japan, Greece, Thailand, and Malaysia where they are then produced.
It does not end here – they are then sent to Indonesia for packaging, before being sent on to their final destination – that is 11 countries, 4 continents, and 50,570 miles before it gets to Wimbledon!
On the face of it, it sounds like a very inefficient procurement process – and would certainly raise eyebrows if we were presented with this by a client – however Slazenger have done their homework and this is the most cost-effective way of making tennis balls!
Mark Johnson, Associate Professor of Operations Management, has looked into the supply chain of the Wimbledon tennis ball and unearthed the surprisingly long and complex journey to one of the world's biggest sporting events.
Dr. Johnson said: "It is one of the longest journeys I have seen for a product. On the face of it, traveling more than 50,000 miles to make a tennis ball does seem fairly ludicrous, but it just shows the global nature of production these days, and in the end, this will be the most cost-effective way of making tennis balls.
"Slazenger is locating production near the primary source of its materials, which if you look at most current supply chains today, is not the case.
"Before the financial crash when logistics costs were really high a lot of firms did this, but now it is not so common. But the tennis ball provides Slazenger with the perfect synchronization of materials produced at a very low cost near to the manufacturing labor in the Philippines, which is also at very low cost."
A complex supply chain sees clay shipped from South Carolina in the USA, silica from Greece, magnesium carbonate from Japan, zinc oxide from Thailand, sulfur from South Korea, and rubber from Malaysia to Bataan where the rubber is vulcanized – a chemical process for making the rubber more durable.
Wool then travels from New Zealand to Stroud in Gloucestershire, where it is turned into felt and then sent back to Bataan in the Philippines.
Meanwhile, petroleum naphthalene from Zibo in China and glue from Basilan in the Philippines are brought to Bataan where Slazenger, which was bought by Sports Direct in 2004, manufactures the ball. Finally, tins are shipped in from Indonesia and once the balls have been packaged they are sent to Wimbledon.
Dr. Johnson said: "Slazenger shut down the factory in Barnsley in the early 2000s and moved the equipment to Bataan in the Philippines. They still get the felt from Stroud, as it requires a bit more technical expertise.
"Shipping wool from New Zealand to Stroud and then sending the felt back to the Philippines adds a lot of miles, but they obviously want to use the best wool for the Wimbledon balls.
"Apart from that part, they have managed to keep the supply chain relatively short, and centered around the Philippines."
Another point to consider is the sheer amount of people that need to be accommodated at Wimbledon. In addition to:
Ball boys & girls: 250
Ball distributors: 7
Building Services: 84
Catering Staff: 1,800
Cleaners (night): 191
Cleaners (day): 114
Court attendants: 151
Data Collectors: 36
Dressing room attendants: 22
Groundsmen: 20
Left luggage office: 30
Lift operators: 30
Physiotherapists: 14
Practice courts: 8
Media staff: 38
Referee's Office: 15
Scoreboard operators & data collectors: 46
Security guards: 700
Stewards (Honorary): 185
Stewards (Service & London Fire Brigade): 595
Transport service drivers: 320
Umpires, Chair, and Line: 350
there are also 39,000 spectators on the grounds at any one time to consider, which to put into perspective is 464 double-decker buses full!
Staying with the transport theme, there is obviously going to be increased traffic into the area. Wimbledon can be reached by tube, train, car, bus, tram, motorcycle & coach. A park and ride service is also offered, so Wimbledon is managing their modes of transport quite successfully, in fact, it seems the largest queues are people waiting to get tickets for Centre Court!
When you are tuning into Wimbledon this year take a moment to think about what a giant feat it is and how so many varying elements have been pulled together to make it happen.
We understand that your direct material sourcing process is just as complex as Wimbledon, but still, you making ends meet with a lot of effort! To find out how Zumen can help you, get in touch with us today.